Three of the Best Virtual Museum Tours
Submitted by HedonisticHiking on 8 Apr 2020
As we come to terms with the fact that we won't be travelling overseas for the forseeable future, we are all becoming expert armchair travellers. To feed our desire for cultural experiences and to help us while away the hours at home Italy's museums have been fantastic at opening up their galleries to the world by offering some excellent virtual tours of their priceless collections.  Whilst it is not quite the same as being infront of the artworks themselves, you can get up close and personal and there are no crowds and no long queues!  
Pinacoteca di Brera in Milan  

►
The Pinacoteca di Brera in Milan was initially established alongside the Accademia di Belle Arti by Maria Theresa of Austria in 1776, to offer university students the opportunity to closely study artistic masterpieces.  When Napoleon took control of Italy the Brera museum was developed to host the most important artworks from all areas conquered by the French armies.  Paintings confiscated from churches and convents throughout Lombardy at the time of the dissolution of religious orders began to pour into the museum in the early years of the 19th century, followed by artworks of similar provenance from other areas of the Kingdom of Italy. This accounts for the collection comprising mainly religious works, many of them large altarpieces. Masterpieces by Mantegna, Raphael and Caravaggio are included in the collection.  Press the arrow for the virtual tour.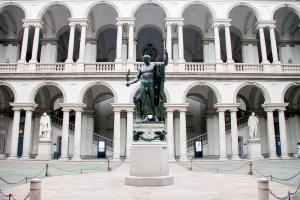 The Uffizi in Florence 

►
The Uffizi Gallery in Florence occupies the first and second floors of a large U-shaped building, built between 1560 and 1580, and originally designed by Giorgio Vasari to be government offices, hence the name. It is one of the most famous museums in the world for its extraordinary collection of sculptures and Renaissance paintings. After the ruling house of Medici died out, their private art collections were gifted to the city of Florence by the last Medici heiress. The gallery had been open to visitors upon request since the sixteenth century, but in 1865 it was officially opened as a public museum. Piero della Francesca, Botticelli, Leonardo da Vinci and Michelangelo are all here, along with countless other masterpieces from across Europe. 
The Vatican Museums in Rome 

►
The Vatican Museums in Rome are the public art and sculpture museums in the Vatican City. The vast complex alongside St Peter's Basilica houses a series of museums displaying works from the immense collection amassed by the Roman Catholic Church and the Papacy throughout the centuries.  They include several of the most renowned Roman sculptures, important Renaissance masterpieces, Etruscan relics and Eygptian artefacts  and, of course, the Sistine Chapel.  Painted in its entirety, the chapel's most important artworks are the frescoes by Michelangelo on the ceiling and on the west wall behind the altar.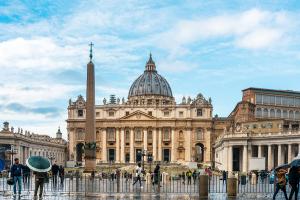 We can't wait to be able to return to Italy, but until then we are pleased to still be able to enjoy some of its incredible artistic treasures.