Inspiring walkers of all ages
Submitted by HedonisticHiking on 6 Sep 2021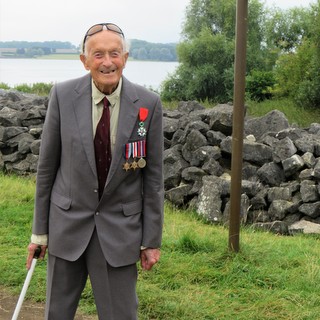 Whilst walking recently with a friend in Rutland, close to the Hedonistic Hiking UK office, we learnt the story of a highly decorated local war hero, with connections to Australia, who has completed a walking challenge in support of The Soldiers' Charity.
Gerry Wells is aged 95 and has completed a personal challenge to walk the length of a popular local landmark at Rutland Water in support of a military charity close to his heart.
A retired English teacher, author and father of five, Gerry volunteered into the army straight from school aged just 17. He served between 1943 and 1947 in the Sherwood Rangers, one of five squadrons of the Royal Yeomanry, 8th Armoured Brigade. The squadron became part of a tank regiment embroiled in the midst of the furious fighting in Normandy in 1944.  Gerry received the Legion d'Honneur – France's highest decoration – for his courageous service.  Now the only surviving member of his beloved tank crew, Gerry was determined to walk in their cherished memory.
Nowadays Gerry has limited vision and uses a walking aid but he prepared for the challenge by gradually building up his walking distances with the kind assistance of his friend, Bob Cruikshanks. He completed the full distance of 5 kilometres on 25 August as the weather conditions were perfect, and has already set to work dreaming up his next challenge. He had planned to complete his walk prior to the Covid 19 Pandemic but was stopped in his tracks by lockdown rules. He was made all the more determined to complete his own walk by the efforts of Captain Sir Tom Moore, a British Army officer and fundraiser who made international headlines in 2020 when he raised money for charity in the run-up to his 100th birthday during the pandemic.
Gerry is hoping that people might help his own fundraising efforts by making a donation to The Soldiers' Charity at https://www.justgiving.com/fundraising/gerry-wells-walk-for-soldiers.  The charity exists to give a lifetime of support to the wider Army family, regardless of where or when a soldier served.
One of Gerry's five children, daughter Lyndsey, emigrated to Australia and is now living there with her family in Perth.  We congratulate Gerry on his achievement and thank him for this reminder that you can enjoy walking at any age!
Two volumes of Gerry's memoirs 'Growing up in Sussex: From Schoolboy to Soldier' and 'The Look of Tomorrow' (History Press), plus his wartime memories 'Kicking the Hornets' Nest' (Matador) are available at Amazon.