Feast your eyes on a good book
Submitted by HedonisticHiking on 2 Mar 2022
There is no doubt that reading a book set in the country where you are travelling helps to bring the place to life.  At HH we're always on the look out for books set in the regions where we run our tours and like to share our ideas from time to time.  These titles are all books we've discovered recently and have thoroughly enjoyed so, if you're heading to Italy with us this year, you might like to add a couple of these to your packing list.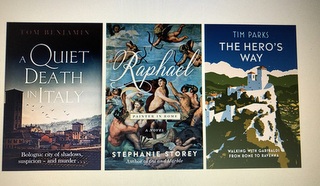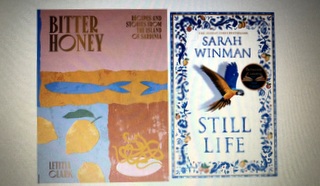 The Daniel Leicester Books - Tom Benjamin
Beneath the beauty of the city, Bologna has a dark underside, and English detective Daniel Leicester must unravel a web of secrets, deceit, corruption and murder.  A Quiet Death in Italy, The Hunting Season and Requiem in La Rossa are the first three, and more are promised!
Oil and Marble and Raphael, Painter in Rome - Stephanie Storey
These are two historical art thrillers set during the Italian Renaissance, with many of Italy's most celebrated artists appearing as characters.  What is more, this link to Stephanie Storey's own website shows many of the paintings being referenced in the novels, really helping to bring them to life.
The Hero's Way - Tim Parks
"Walking with Garibaldi from Rome to Ravenna" is the longer title for this book which is a fascinating portrait of Italy past and present, and a celebration of determination, creativity and belief. Parks intertwines this travelogue with interesting contemplations on leadership, history and love of Italy.
Bitter Honey - Letitia Clark
Chef Letitia Clark invites us into her new home on the beautiful island of Sardinia, and shares this book which is part travel guide, part cookbook and also a window onto a covetable lifestyle in the sun – all rolled into one.
Still Life - Sarah Winman
This is an enchanting tale of an unlikely friendship between a British soldier and an alleged spy in a wartime Tuscany, ripe with colour and the ghosts of the past.  
To see a full list of all the good reads we recommend, you can see the Italian List of Books and the Australian List of Books here.