Three Favourite Soups
Submitted by admin on 7 Apr 2013
Fancy something nutritious and filling, but simple to make?  Our three soups this month are full of flavour and very easy to prepare - and there's something for everyone, whether you're leaving behind the winter or the summer. All recipes serve 4. 
Pappa al pomodoro
This is a classic Tuscan tomato and bread soup which has very humble origins but is a great way to use up old stale bread - in fact the recipe calls for it.  It's hearty and satisfying and brings to life some of the true flavours of Italy.
Ingredients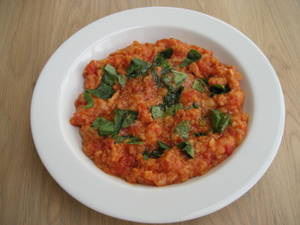 500g peeled, chopped fresh tomatoes
250g stale crusty bread diced into small pieces
1 litre of vegetable stock
4 cloves of pressed garlic
Roughly chopped basil
Extra virgin olive oil
In a bowl cover the stale bread in the warm stock for about an hour until it soaks up the liquid.  Sauté the garlic in about a tablespoon of olive oil slowly and then add the tomatoes and simmer for about 20 mins.
After an hour or so squeeze any remaining liquid out of the bread and add it to the tomatoes with a little salt and pepper and cook for another 15 minutes over a low heat.
Serve with a good glug of the olive oil on top and the torn basil.  In the depths of winter you could eat this piping hot, but in the summer its nice served just warm.
Pea, Broad Bean and Mint Soup
Those of us lucky enough to be in Italy in the next few weeks will be enjoying the broad bean (fava in Italian) season and this soup is light, summery and refreshing.
Ingredients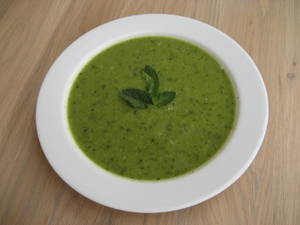 500g of fresh (or frozen) mixed peas and broad beans 
Extra Virgin olive oil and a knob of butter
1 medium onion chopped
1 litre of vegetable stock
A bunch of fresh mint
A few fresh thyme leaves
Sauté the onion and thyme in the oil and butter on a low heat for about ten minutes.  Add to this the stock and the peas and beans, and simmer until the beans are very tender.  Add salt and pepper to taste. Add roughly chopped mint leaves and cook for a further minute. 
In a blender whizz together all the ingregients and return to the pan to heat through if required. 
Serve with a swirl of olive oil and a few whole mint leaves.  You could sieve this after blending if you wanted a very smooth texture.
Spicy Chickpea Soup
This soup really is a meal in itself and uses lots of lovely Moroccan spices.  Whilst the photo might look a little like the Pappa al Pomodoro, the flavours in this are totally different and full of eastern promise ...  Chickpeas are full of protein and excellent fuel for hikers!
Ingredients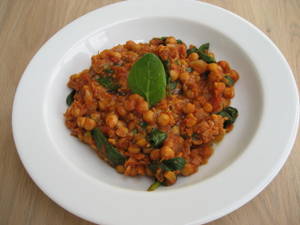 500g of soaked drained chickpeas (or 2 tins)
1 tin of chopped tomatoes
1 medium onion chopped
5 or 6 cloves of pressed garlic
Two thirds of a teaspoon of ground cinnamon
Two thirds of a teaspoon of ground cumin
Two thirds of a teaspoon of paprika
A good pinch of cayenne pepper
Half a teaspoon of sugar
Approx 600ml of vegetable stock
Extra Virgin olive oil
Three good handfuls of baby spinach
Sauté the onion and garlic in the olive oil on a low heat for about 10 minutes, and add the spices and sauté for about a minute more. Add the tomatoes, chickpeas, stock and sugar and a little salt and pepper.  The chickpeas should be just covered by the amount of liquid. Simmer for around 45 minutes.
Remove pan from heat and mash some of the chickpeas in the pan using a potato masher. Put back on heat and stir in the spinach leaves until they wilt.
Serve with a drizzle of olive oil on top. If you like your soup a little thinner you could add more stock after you have mashed the chickpeas.
Buon divertimento e buon appetito!