Lazy Lunch in Lamole
Submitted by admin on 28 Sep 2013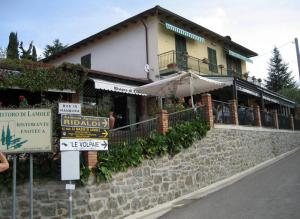 This week we went with our group on the Tuscan Harvest tour to one of our very favourite restaurants in the heart of Chianti Classico. 
The restaurant, Ristoro di Lamole, is owned and run by two friends, Paolo and Filippo, who started the business at the beginning of 1993.  Twenty years on and the restaurant is a huge success story, with people coming from far and wide to enjoy the wonderful cooking and the magnificent views of the rolling hills of Chianti.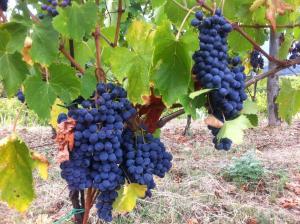 At this time of year the vineyards of Chianti are bursting with Sangiovese grapes ready to be harvested to go into the delicious bottles of Chianti and Chianti Classico.   This historic wine-making area produces in the region of 30 million bottles each year.   There are almost 600 producers in this zone, many of whom produce wonderful olive oils alongside their wines.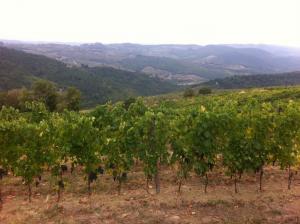 Paolo and Filippo have a key relationship with the wine makers Lamole di Lamole whose vineyards are literally on the doorstep of the restaurant in the tiny village of Lamole which is high in the hills above Greve. They are one of the oldest and most historic producers of Chianti Classico.  
The view from the terrace of the restaurant is breathtaking - a wonderful patchwork of pristine vines, woods and olive groves.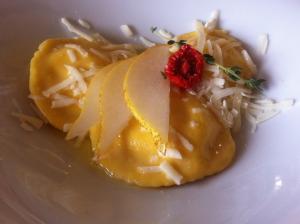 For our fabulous lunch we had a huge selection of antipasti - carpaccio of beef with parmesan shavings, burrata with a red pepper salsa, local pecorino cheese served with truffle honey, bruschetta with fresh tomatoes and basil and prosciutto with artichokes.   This was followed by crespelle (crepes) filled with spinach and one of the signature dishes of the house which is a hand-made ravioli stuffed with ricotta and pears and served with butter and pecorino.   The cooking celebrates all the local ingredients but with an amazing lightness of touch.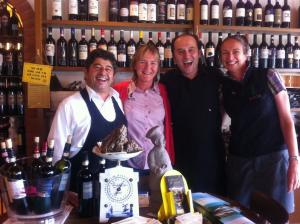 "We are like an old married couple" says Filippo of his partnership with Paolo.   Both have three children, some of whom are now old enough to be starting work in the restaurant and who may hold the key to the future of the business ....
"The most important thing for us is the quality of the ingredients" explains Filippo.  "I can't say that any one person really influenced our cooking.  When we propose new dishes they are the result of close collaboration with our chef Ettore and the rest of our team here."
For us at Hedonistic Hiking it is always a pleasure to come to the Ristoro di Lamole and to be looked after by old friends who are so expert at what they do.   Grazie mille e ci vediamo presto!