Fine Dining in Piedmont
Submitted by admin on 25 Jun 2013
One of the highlights of our stay in Saluzzo on our Jewels of Piedmont tour is dining at the fabulous Il Sigillo restaurant next to the famous Abbey of Staffarda. The Abbey, a cistercian monastery founded in 1135, remains one of the most complete medieval complexes in the Piedmont region.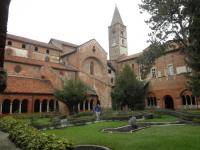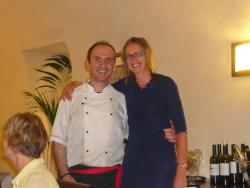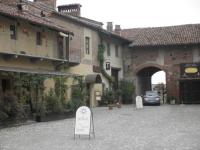 The name Il Sigillo translates to The Seal (meaning an official seal or signet) and the restaurant is owned and run by our great friendAlberto Demaria. Alberto is the first chef in his family but cooking for him has always been an overriding passion. Leaving school to become an apprentice chef he always dreamed of running his own place and, helped by his parents, this became a reality in 2008. 
Asked if he could name any real influences on his cooking he replies:  "I could not say that one person in particular has influenced my style. My inspiration comes from our wonderful local ingredients and from the desire to make people happy.  When I see people enjoying my cooking it feeds my enthusiasm and creativity."
As well as his parents helping behind the scenes, his wife Anna, his sister and her boyfriend are all busy working in the restaurant and his first child, son Paolo, was born in January of this year, so the future of the restaurant is assured!
To whet your appetite for Alberto's delicious food here's what we enjoyed last week:
                        Fresh local trout rolled in crushed hazelnuts served on a bed of baby salad leaves
                         Agnolotti - a typical Piemontese filled pasta made with potato, butter and thyme
                                   Guinea fowl served with a sauce of Moscato, almonds and apples
         Zabaglione - a rich dessert of eggs and fortified wine served with traditional Piemontese maize biscuits
                                                                      Home made ice cream
Luckily for us, Alberto has shared his recipe for the Zabaglione and here's what you need to know:
Ingredients for four people:
- 4 egg yolks
- 4 tablesoons of sugar
- 4 1/2 eggshells filled with a mix of Moscato d'Asti and Marsala
Whisk the egg yolks and sugar in a copper pan (known in Italian as a "polsonetto" and specially adapted for this dish).
Add the mixture of Marsala and Moscato and beat vigorously with a whisk over a high heat until it reaches a temperature of 85 degrees and has a thick creamy texture.  Serve with maize biscuits.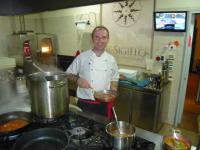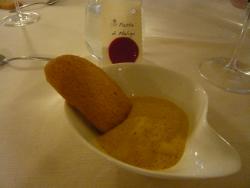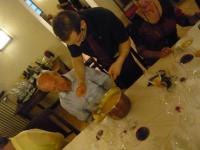 Hedonistic Hiking has been enjoying Alberto's fine food since he first opened the doors and we always look forward to our evenings here with great anticipation.  Grazie mille Alberto, e ci vediamo presto!