Dining out on delicious memories II
Submitted by HedonisticHiking on 4 Feb 2021
Last month's Blog about some of our favourite dining experiences in Italy seemed to attract so much attention that we have decided to share some more culinary highlights this month too!  We've ventured a little further afield this time - to Austria and Slovenia -  as well as down to the foot of Italy.  Finding the places to eat on our tours is one of the greatest pleasures in putting together new itineraries, and as soon as we meet people who share our passions for excellent local, seasonal ingredients and time-honoured recipes, we know we are in good hands!
Austria and the Dolomites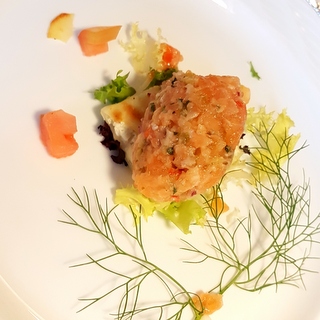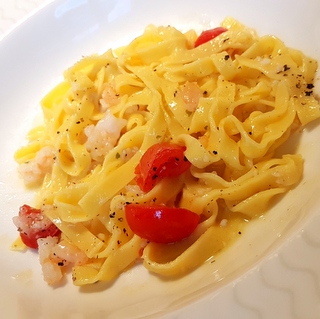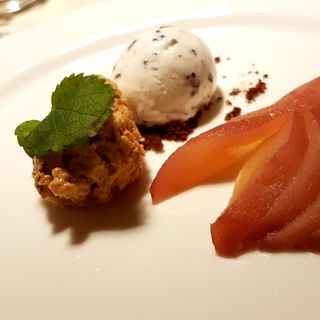 The influences of the cooking in the South Tyrol come from both sides of the Austrian/Italian border.  Our hotel, the Bad Moos in Sesto, sits right at the entrance to the Tre Cime Nature Park and is surrounded by the UNESCO world heritage mountain landscape of the Dolomites.  Here, one of the chef's chief delights is to cook with the local wild herbs, so many of the dishes include for example Dandelion, Wild Peppermint or Lady's Mantle.  This menu we enjoyed with our group in July 2018.
Antipasto:
Tartar di Salmone con rösti di patate alle erbe e insalatine   Salmon Tartare with a potato "rösti" of local herbs and salad
Primo:
Tagliatelle di Kamut con ragù di gamberoni e aglio brasato al rosmarino    Tagliatelle made with kamut flour with a prawn, garlic and rosemary sauce
Wine Choice: Cantina Terlan - Vorberg Pinot Bianco Riserva 2015
Founded in 1893, the Cantina Terlano winery is now one of the leading wine growers' cooperatives in South Tyrol, with just under 150 members working a total area of 170 hectares.  This white is a complex wine with rich minerality, which pairs excellently with seafood dishes.
Secondo:
Sottospalla di vitello con porcini, patate al forno e fagiolini in mantella di speck  Veal with porcini mushrooms, oven-roasted potatoes and green beans wrapped in speck
Wine Choice: Laimburg - Sass Roà - Cabernet Sauvignon Riserva
Laimburg manages about 50 hectares of vineyards across the South Tyrol region with vines planted at altitudes ranging from 200-750 metres above sea level depending on the grape variety. Laimburg Research Centre is working to identify the ideal microclimate for each varietal.  This 100% Cabernet Sauvignon is called Sass Roà - the name deriving from the Ladin langauge meaning: Glowing red stone set into the mountains' pale rock
Wine Choice: Kornell - Kressfeld Merlot Riserva 2013
The Kornell vineyards lie just to the north west of Bolzano, an area of the Alto Adige which has been cultivating vines for more than 2,000 years. This delicious Merlot has a dark, ruby red colour, ripe aromas of plums and raspberries and a full, long finish. 
Dolce:
Pera Williams al vino rosso con mousse di mandorle e gelato alla stracciatella   Pear cooked in red wine, almond mousse and stracciatella ice cream
Slovenia and Friuli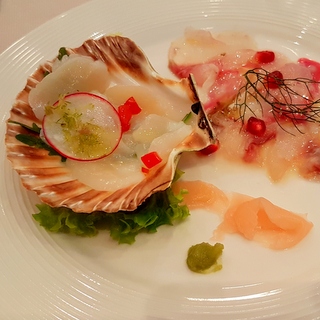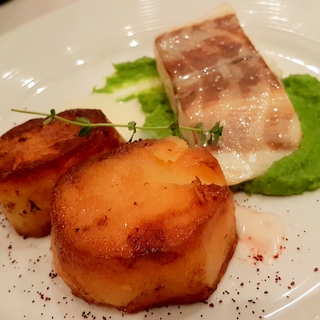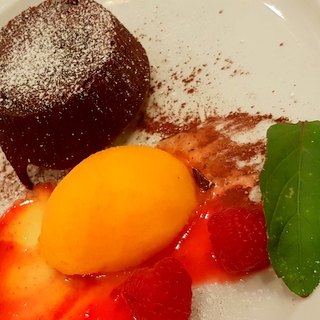 The Hotel Hvala is a family-run four-star hotel in the centre of Kobarid, in the heart the Soča valley.  The restaurant which forms part of the hotel, known as the Topli Val, has an excellent reputation for fish and seafood and an extensive wine list to match.  All members of the family are involved in the running of both the hotel and restaurant and the welcome we receive each time we visit with our groups is second to none.  The menu is a little different each time we eat here as the courses depend very much on the seasonal fish available, but it is always a stunning experience.  Here is an example from the summer of 2018.
Antipasto:
Scallop ceviche and marinated slices of sea bass with honey and pomegranate juice
Wine Choice - Zelen, Ferjančič, Vipava Valley
The Vipava Valley lies about an hour's drive south-west of Ljubljana and is most well known for its dry whites, especially the zelen and pinela grape varieties that are unique to the area.
Primo:
Saffron risotto with fried scampi tails and spinach
Wine Choice - T.F., Sirk Valter, Goriška Brda
Goriška Brda is a hilly region at the Western edge of Slovenia near the Italian border.  This white is made with the Tocai Friulano grape.
Secondo:
Sea bream fillet, fondant potatoes, pea cream, beetroot powder
Wine Choice - Rebula Bagueri, Kz Brda, Goriška Brda
Made with 100% Rebula grapes, this deep yellow, smooth, balanced wine pairs perfectly with fish and seafood dishes
Dolce:
Lava cake with mint, mango icecream, fresh raspberries
Wine Choice - Rumeni Muskat, Prus, Bela Krajina
Bela Krajina is situated in the far southeastern corner of Slovenia, on the Croatian border. This rich sweet wine is made with Muscat grapes.
Southern Italy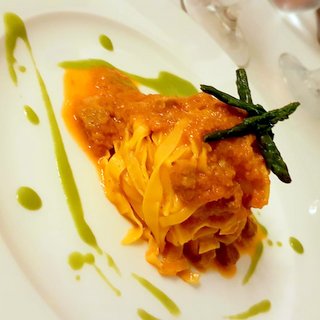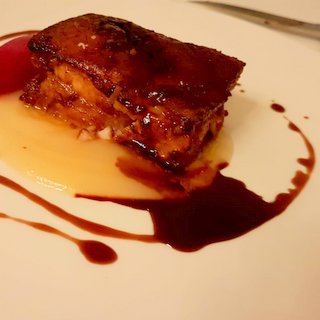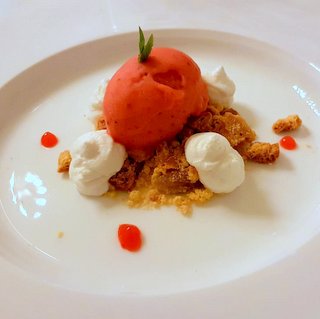 This is our final night on the Southern Italy tour where we find ourselves in the extraordinary cave city of Matera. In the 1950s the town was dubbed "the shame of Italy" but today it has regenerated its ancient cave dwellings to make spaces for hotels, restaurants and craft shops and in 2019 it was a European Capital of Culture. This restaurant, Dimora Ulmo, is situated in an historic palazzo on the edge of the Sassi (cave neighbourhood) and the menu cleverly combines the traditional specialities of the region with a modern twist.
Antipasto:
Mousse di ricotta    A light mousse of local sheep ricotta cheese
Baccalà acqua di ceci e crusco   A taste of salt cod on a chickpea sauce flavoured with cruschi - the famous fried dried chillies of Southern Italy
Uovo e ciambotta    A speciality of Basilicata - a dish of eggs, onions and peppers
Wine Choice: Martino - Greco "I Sassi"
This family have been making wines in the area of Vulture in Basilicata for over a century.  This white is made with 100% Greco grapes, a variety brought to the south of Italy originally by the Greeks.
Primo:
Tagliolino al ragù d'agnello e crema di piselli   A hand-made ribbon pasta with a lamb and pea ragout  
Wine Choice:  Masseria Cardillo - Bacche Rosa
This is a light red (cerasuolo style) made with Primitivo grapes which pairs well with antipasti dishes, soups, rice and pasta dishes.
Secondo:
Pancia di maiale con crema di sedano rapa e salsa all'aglianico   Pork belly with celeriac cream and a red wine sauce
Wine Choice:  Tenute Iacovazzo - Primatem Primitivo
The vineyards of this winery are located a few kilometers from the Ionian coast at Metaponto.  The wine is made with 100% primitivo grapes which thrive in Southern Italy and it is aged in stainless steel tanks before being transferred to french oak barrels.
Dolce:
Gelato ai lamponi con Crumble e crema di ricotta    Raspberry icecream with crumble and ricotta cream
We finish dinner usually with a taste of a local liqueur made from walnuts, known as Padre Peppe's Elixir di Noce.
On all our tours we offer a variety of dining experiences, from small characteristic osterias to restaurants of renown and, on occasion, award-winning establishments with big reputations. We work hard to plan menus which celebrate the best local and seasonal ingredients and which showcase the traditions of the regions where we are hiking. We are often quite literally walking through the menu each day as we pass vineyards, orchards, waving wheat fields or fishing ports, and our time spent with cheesemakers or truffle hunters truly helps to bring the menus to life. We also seek to balance the evenings so that dinners with four or more courses are interspersed with lighter meals, and we always take into the account the amount of walking completed on a given day. It goes without saying that all courses are matched with excellent regional wines and we like to share a little of our local culinary knowledge before the start of each meal.