Dining out on delicious memories
Submitted by HedonisticHiking on 8 Jan 2021
The start of the new year has us looking forward to dining again in Italy, which we hope will be possible in the second part of 2021. Food plays an important part in all travels but in Italy it is perhaps even more memorable because discussing food, savouring local specialties and maintaining time-honoured culinary traditions is in the DNA of the entire population. For this Blog we've taken three unforgettable dining experiences from our tours and shared them again, to whet all our appetites for travelling to Italy as soon as we are able.
The Italian Lakes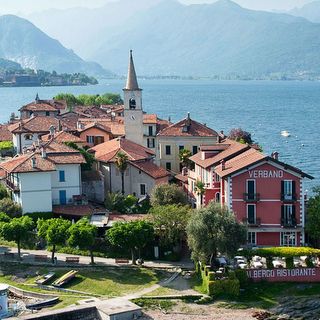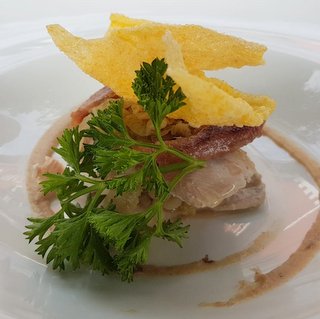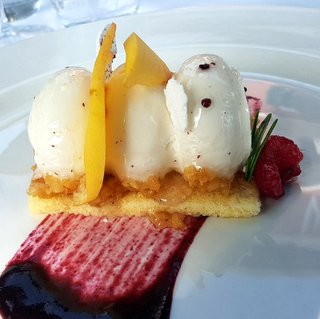 As locations go, the Albergo Ristorante Verbano takes some beating.  It sits on the tiny island of Isola dei Pescatori in the middle of beautiful Lake Maggiore.  The clear waters of the lake lap against the dappled wisteria-clad terraces of the restaurant and diners can soak up views of the stunning Borromeo Palace which stands regally on the island opposite.  Not surprisingly many of the specialities of the menu involve fresh lake fish. We always come here on our free day on the Italian Lakes tour, arriving by boat from the private jetty of our hotel, to enjoy an incredibly picturesque long, lazy lunch by the water.
Antipasto
Trota del maggiore, polenta croccante, verza e acciughe cantabriche    Trout from Lake Maggiore, crispy polenta, cabbage and Cantabrian anchovies
Primo
Riso Carnaroli al pesce persico e crema di limoni di Sorrento    Risotto with lake perch and a Sorrento lemon cream
Secondo
Lucio perca, scarola, semi di papavero e scapece di carote     Pikeperch wrapped in escarole and poppy seeds on a carrot puree made with vinegar and garlic
Dolce
Biancomangiare con cuore ai lamponi su biscotto di arachidi e rosmarino e salsa ai frutti di bosco   Blancmange with raspberries on soft peanut and rosemary biscuits with berry sauce
Wine Choices:   
Erbaluce di Caluso "Bianchera"  Orsolani
Erbaluce is a white grape originating in the Piedmont region of Italy, probably as far back as Roman times. It is produced only in the small Caluso area, and is usually referred to as "Erbaluce di Caluso". Along with dry table wines, the grape is also often used for sweet and sparkling wines.
Barbera "Bricco del Conte"  Castello di Uviglie
This winery lies due east of Turin in the wine-making zone known as Monferrato.  Piedmont is the supposed birthplace of the red Barbera grape but it is widely grown now across other regions such as Lombardy and Emilia Romagna.  This wine is made with 100% Barbera grapes.
The Best of the Italian Alps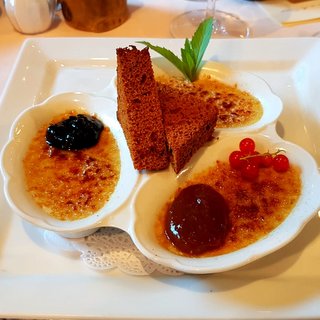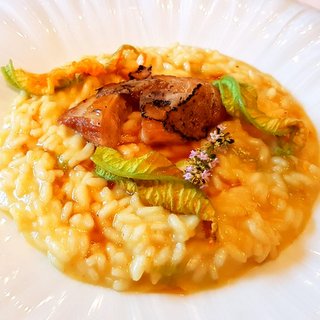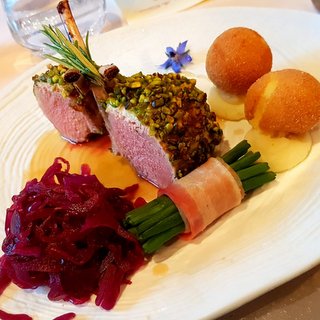 The end of our Best of the Italian Alps tour sees us arrive in the Gran Paradiso National Park, where we stay in the wonderful Bellevue Hotel.  For nearly 100 years this hotel has been offering hospitality to visitors to Cogne and it has spectacular views of the Gran Paradiso glacier.  The Bellevue has been run by four generations of the same family, has fabulous spa facilities, its own kitchen garden producing the freshest ingredients for its many restaurants, its own wine and cheese cellars, and its own bakery.  The hotel has a Michelin Star. The cooking of this far north-western corner of Italy benefits from both French and Italian influences, and this four-course dinner which we enjoyed in July 2018 was utterly delicious!
Antipasto:
La crème brulée di foie gras  Goose liver with a caramelised top
Wine Choice: La Vrille Vallée D'Aoste Chambave Muscat
These white Muscat grapes grow at around 650 metres above sea level in the Aosta Valley to make an aromatic, fresh and citrusy wine. 
Primo:
Risotto ai fiori di zucca, petto di quaglia e veli di tartufo nero   Risotto with zucchini flowers, quail breast and a shaving of black truffle
Wine Choice: L'Aîné di Didier Gerbelle
Grown in the Aosta Valley by this young experimental winemaker, this red is made with a grape called Neret, which is an antique variety of the region but which had become almost extinct. 
Secondo:
Carré d'agnello in crosta di pistacchi, cavolo rosso marinato  Rack of lamb with a pistacchio crust and marinated red cabbage
Wine Choice: Tenute Cisa Asinari Dei Marchesi di Gresy -  Martinenga Barbaresco
From vineyards in the heart of Piedmont, this Barbaresco is made with 100% nebbiolo grapes, is aged for 24 months in barriques and a further 12 in the bottle.
Dolce:
Il cannolo al limone e basilico  Crisp pastry tubes filled with lemon cream and basil
A Tuscan Harvest

Quite apart from the food, the Ristoro di Lamole is stunning for its position high in the hills above Greve in the heart of Tuscany's Chianti Classico vineyards. We come here on foot on our Tuscan Harvest tour to meet up with old friends Filippo and Paolo and be treated to a selection of their exquisite Tuscan delicacies. Their cooking has a real lightness of touch and celebrates the best seasonal and local ingredients. This is a lunch stop for us on this tour, so we have a wide selection of tiny tastes of many different dishes which just keep coming, served on the pretty terrace overlooking the immaculate vines which lie beyond. This is the ultimate long, lazy Italian lunch!
Carciofi con prosciutto - Artichokes served with thinly sliced prosciutto ham
Bruschette di pomodoro fresco - Toasted Tuscan bread with fresh chopped tomatoes, olive oil and basil
Carne cruda - Italian-style steak tartare
Barbabietola cruda con formaggio fresco di capra - Beetroot with fresh goat's cheese
Burrata con zucchine e pomodori secchi - Burrata cheese served with zucchine and sun-dried tomatoes
Crespelle con zucchine e pecorino - Fine pancakes served with zucchine and sheep's cheese
Cavatelli con tartufo nero estivo -  A hand-made twist of pasta served with a shaving of black summer truffle
Wine choice: Tre Calvi Rosato
A rose wine made by the owners of the restaurant from the local Sangiovese grape.  The label represents the three bald heads of the winemakers!
Wine choice: Lamole di Lamole Chianti Classico
The historic Lamole di Lamole winery stands on a building dating from the mid-14th century just close to the restaurant where we are eating. Their Chianti Classico is made with Sangiovese grapes planted in high-altitude vineyards, and the wine is aged first in steel before being transferred to oak casks. It is the ideal partner for traditional Tuscan dishes.
On all our tours we offer a variety of dining experiences, from small characteristic osterias to restaurants of renown and, on occasion, award-winning establishments with big reputations. We work hard to plan menus which celebrate the best local and seasonal ingredients and which showcase the traditions of the regions where we are hiking. We are often quite literally walking through the menu each day as we pass vineyards, orchards, waving wheat fields or fishing ports, and our time spent with cheesemakers or truffle hunters truly helps to bring the menus to life. We also seek to balance the evenings so that dinners with four or more courses are interspersed with lighter meals, and we always take into the account the amount of walking completed on a given day. It goes without saying that all courses are matched with excellent regional wines and we like to share a little of our local culinary knowledge before the start of each meal.