The Chestnut Season
Submitted by admin on 26 Oct 2012
It's the time of year when the woods around our home in Tuscany are full of locals foraging for chestnuts, and the 
village of Pievescola nearby has just celebrated its annual chestnut festival.  A great favourite with the Italian 
people, the humble sweet chestnut was first introduced into Europe from Asia Minor and the fruit has been a staple food 
in southern Europe for millennia.  Where cereal crops would not grow well in mountainous Mediterranean areas the Romans 
planted chestnut trees abundantly and found the fruit an important source of nutrition for feeding their armies.                          
Possibly the easiest way to enjoy sweet chestnuts is to simply roast them in a pan on the fire. But the nuts can also be 
ground into flour and used in a variety of cakes and breads to replace ordinary flour. They can also be eaten candied, 
boiled, steamed, grilled, or roasted in sweet or savoury recipes and used as stuffing for poultry and other game birds.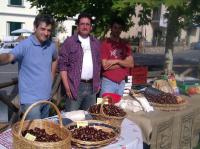 Our Culinary Tour of Northern Italy took us to one of the few remaining chestnut mills in the Val di Magra close to 
Pontremoli, where we are able to see the huge mill stones at work.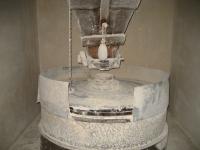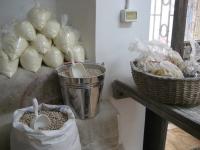 The Australian gold rush of the 1850s and 1860s saw the first recorded plantings of European chestnut trees brought in 
from Europe by the first settlers.  Over the years most chestnut tree plantations were Castanea sativa stock (the same as 
in Italy) and some of these are still standing today. Some trees in northern Victoria are around 120 years old and up to 
60 metres tall.
Chestnuts also grow well in southwest Western Australia, which has cold winters and warm hot summers but about 80% of 
production comes from northeast Victoria. Chestnuts are slowly gaining popularity in Australia and increased production 
is expected in the future.  So Mick and I are lucky enough to enjoy two chestnut seasons, on both sides of the equator!                                                    
One of our favourite recipes is the Montebianco - literally meaning the White Mountain - which is a tower of sweet chestnut puree covered in whipped cream and chocolate.  What's not to like?!  Here's a very simple way to do it:
Ingredients for 6
 
A few fennel seeds
800g of shelled chestnuts
175ml of milk
50g of caster sugar
50ml of rum
2 tablespoons of cocoa powder
Whipped cream
Decorations
Tie the fennel seeds in a small muslin bag.  Bring a pan of salted water to the boil, add the chestnuts and fennel seeds and simmer for about 40 minutes. Drain and peel the chestnuts.
Then place them in a saucepan with the milk and simmer, mashing with a wooden spoon for about 15 minutes.  As the mixture thickens stir in the sugar and take off the heat.  Add in the rum and cocoa and mix well.
Pass the mixture through a food mill on to a serving plate to make a cone of chestnut "vermicelli".  Let your imagination run wild with the decoration - and use the whipped cream to make it look like a snow-covered peak - or cover completely and dot with chocolate drops, sugar strands or crystallised violets.   Buon appetito!