Cheese Bites
Submitted by HedonisticHiking on 10 Oct 2021
A number of our walking holidays in Italy bring us into contact with food and wine producers and these visits often make truly memorable moments from each trip.  Here we have a look at Italy's fabulous formaggio and some of our best cheesy experiences!  
Mozzarella di Bufala
On the first day of our Southern Italy tour we meet in the vibrant city of Naples.   We head south through the region of Campania to stop at the Caseificio Barlotti, one of the oldest cheese farms operating in the area around the Greek temples of Paestum. We get up close and personal with the water buffalo and of course enjoy tasting the genuine Mozzarella di Bufala DOP.  DOP is the EU's certification of products guaranteeing that food is made by local farmers and artisans, using traditional methods. This famous cheese from the south of Italy was originally produced only with the milk of water buffalo, but nowadays cow's milk can be used to meet the demands of commercial production and in Italy is known as Fior di Latte.  Buffalo milk mozzarella has a very low fat content, is pure white and should be eaten within 24 hours of being made. Its delicate flavour is best enjoyed simply with sliced tomatoes, olive oil and little salt and pepper, but it also makes the perfect topping for pizza and no-where is this partnership better demonstrated than in Naples.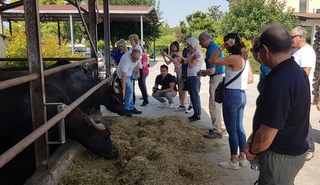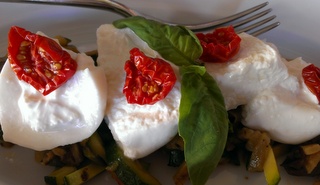 Fiore Sardo 
This cheese, also known as Pecorino Sardo, is a hard cheese made from raw sheep's milk and lamb rennet on the Italian island of Sardinia.  On the third day of our Heart of Sardina walking tour on this lovely island we visit a small farm for a traditional Sardinian barbeque lunch prepared by and eaten with local shepherds.  You are more likely to see sheep than people in the rugged interior of Sardinia and cheese making here is believed to date back to the Bronze Age.  Also having the DOP certification, Fiore Sardo is made with milk sourced from a single flock of the local Sardinian breed. The cheese is aged for six months during which time it develops a natural rustic brown rind.  Inside the cheese is dense and wonderfully rich in flavour, with a granular texture. and it is carefully smoked, adding another layer of complexity to the taste.  The chance to eat this cheese and share it with the shepherds who care for the flocks is a special experience.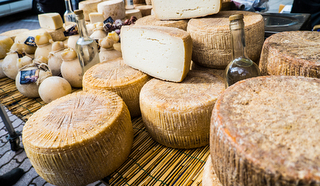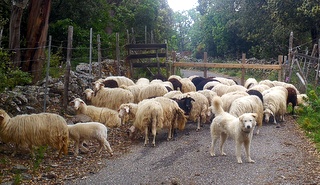 Parmigiano – Reggiano
The second day of our Parma, Tuscany and Ligurian Sea tour finds us with Michele in his Parmesan factory high in the hills of Emilia-Romagna. Perhaps the king of all Italian cheeses, Parmigiano – Reggiano DOP is still produced the way it was many centuries ago, and can only be made in the region of Emilia-Romagna. Cow's milk from the morning and evening milking is mixed with whey from the previous batch to help fermentation, and mixed in huge copper vats.  It takes around 16 litres of milk to produce 1 kg of cheese.  The cheeses are formed in huge wheel-shaped moulds and turned in salt water for around 20 days before being transferred to Michele's vast store rooms for a maturation period of between 12 and 24 months. The rind of each cheese has a unique stamp to guarantee its quality and provenance.   Once mature, parmesan has its characteristic crumbly and crystalline texture and complex salty flavour and is just as good as a table cheese as it is grated over your favourite pasta.  When you have witnessed the time and patience required to produce Parmesan you begin to understand the prices that are charged for this famous formaggio!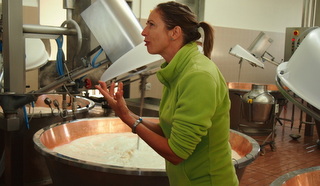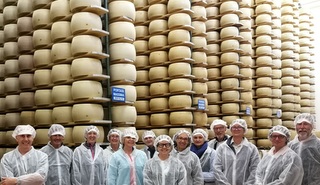 Anyone reading in the UK with a passion for cheese must visit the website of our colleague Cinzia who owns Cuculo Deli in East Sussex and is a cheese enthusiast.  You can buy online and she has a huge selection of European and British cheeses to choose from and will talk you through all the options.  Visit her website here.