Celebrating local produce
Submitted by admin on 1 Mar 2014
The last weekend in February was party time for Hedonistic Hiking as we hosted our annual long lazy Italian-style lunch in the historic village of Wandiligong, and enjoyed some of the very best ingredients that north east Victoria has to offer.
Mick was at the helm, ably assisted by old friend Brad Wolter, and the menu was a journey through some of our favourite Italian dishes but using ingredients sourced entirely from suppliers close to Bright.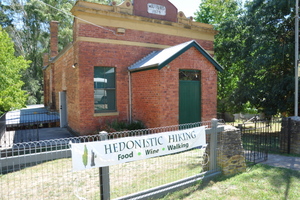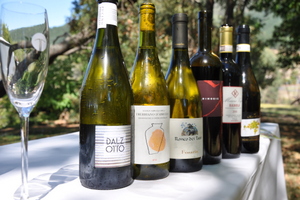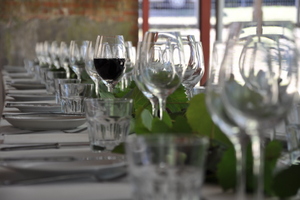 Antipasti
Smoked trout and fennel tartlet
Tortino di trota affumicata e finocchio
Traditional Italian tomato and bread soup
Pappa al pomodoro
Salt cod balls on a chickpea purée
Polpette di baccalà mantacato con salsa di ceci  
Primi
Sugar snap, snow pea and ricotta soup
Zuppa di piselli e ricotta
Four cheese risotto with prosciutto
Risotto ai quattro formaggi con prosciutto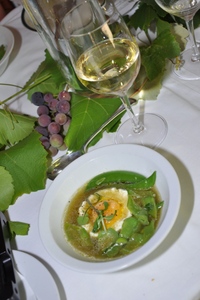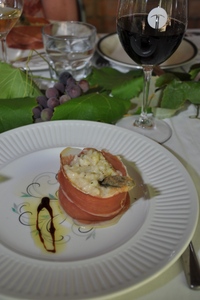 Secondo
Rack of lamb, chestnut & herb stuffing and a tomato concassé
Costoletta d'agnello ripieno d'erbe e castagne, pomodoro ristretto
Contorni
Dutch carrots, dauphinoise potatoes and  thyme-roasted cherry tomatoes
Carote con pangrattato, patate dauphinoise e pomodorini arrosti
Dolci
Hazelnut and coffee ice cream with Vin Santo and honeycomb
Gelato di nocciola e caffè con Vin Santo e miele
Chocolate mousse with fruits of the forest
Mousse di cioccolato con frutti di bosco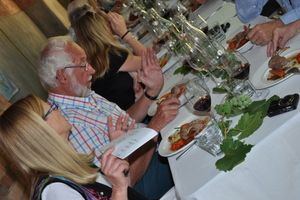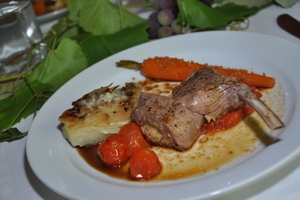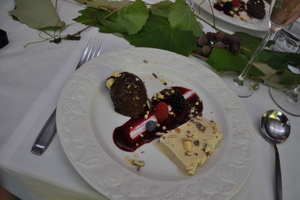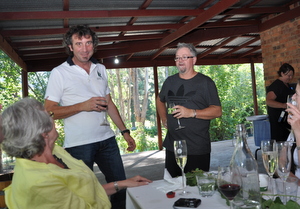 It was a wonderful relaxed day with guests still at the table at 5 o'clock in the afternoon!   Mick's idea for the menu was to celebrate as far as possible the fine produce of this area, and each course was matched with an imported wine from an area of Italy where we run our walking holidays from April to November.    These are the suppliers who helped to make the lunch such a success:
Alpine Gourmet Meats
Bright Organics
Bright Chocolate Factory
Vegetation - Mt Beauty
Alpine Cheznuts
Mountain Fresh Trout - Harrietville
Bright Berry Farms
Delizie Deli - Myrtleford
Mount Buffalo Hazelnuts
Mount Buffalo Olives
Supporting local producers, shopping for ingredients which have incurred no food miles and following Slow Food traditions are key to our business philosophy at Hedonistic Hiking, and principles which we strive to follow on our walking tours in Italy and Slovenia as well as in Australia.   Our Lazy Lunch will be held again next year on Saturday 21st February and we would like to see as many people there as possible in 2015!