A View of the Palio
Submitted by admin on 22 Aug 2012
Last week we hosted our Palio of Siena tour for the first time.  We thought it would be interesting to ask one of the pioneers on the trip to answer a few questions about his experience but, better than that, he wrote a whole article and supplied some wonderful photographs too, all of which are published below.   Many thanks to Chris Bell for his time, trouble, and enormous enthusiasm!
The Grand National and the Melbourne Cup are both iconic races in their own right but they do not define the cities that host them and life moves on immediately they have been run. The Palio of Siena could not be more different. It is much more than just a race. It has been the heartbeat of the city for centuries and sits firmly at the centre of its culture and history. No sooner is one race run than the planning and plotting for next year's race starts.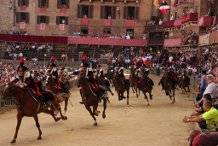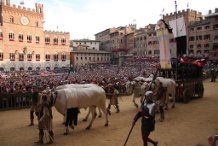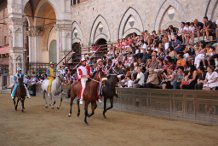 The city itself is a unique experience for many people who return time and again. Jose Saramago, the Nobel Prize Winner, summarised this love affair thus: "As I scrutinise Siena's ancient buildings, timeless dwellings where I would love to live one day with a window of my own overlooking the clay tiles and the green shutters, I try vainly to understand wherein lies the secret that Siena whispers and rings on and on in my ears as long as I shall live."
Having visited Siena many times myself I now know that it takes an in depth visit to the Quattro Giorni of the Palio to answer his search for that understanding and why it is so special. Many companies offer a brief visit to view the race itself, but that will not begin to come close to fully understanding the occasion, its history and its importance to the Sienese. Travel with Hedonistic Hiking and you will be privileged to get that insight through a series of very special events that have clearly taken much effort to organise.
Spend the selection day with a member of a Contrada including their lunch, attend the morning trial races, visit the Monte dei Paschi bank on the one day of the year they open a stunning loggia, dine in the street with over 1000 Contrada members at their pre-race dinner, witness the jockey's mass and much more. Where you view the procession and race is key to fully enjoying the climax of events. The seats chosen for this trip would be difficult to better. Staying in the city is also key.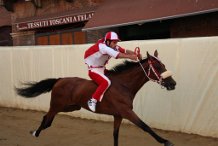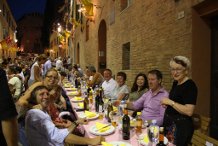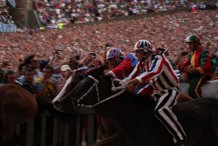 If you choose to go on this trip and find it fully booked do not be surprised, but instead consider A Tuscan Harvest as an introduction. This will get you into Siena; it will give you a sense of the city and prepare you better for when you are able to take the Palio trip.
Our week was most eloquently described at dinner on the last night by fellow traveller John Cook: 
"It is no surprise to anyone who has holidayed with Jackie before that she left no stone unturned to give us a tremendous week at the Palio of varied and spectacular pageant. We have loved Siena ever since our first visit but it was an unconsummated bricks and mortar affection until this week when her efforts and knowledge brought the history, the culture and more than anything, the spirit and soul of Siena and its people home to us."
Having travelled with Jackie five times I can vouch that this experience is par for the course on all the tours. I'm busy booking next year's already.