Highlights of the Grampians Peaks Trail
Rocks, Rock Art and Award-Winning Wineries
This new Level 5 tour explores the rugged mountains of the Grampians National Park and cherry picks some of the best walks of the new long-distance Grampians Peaks Trail.  The park is one of Victoria's great natural wonders, known as Gariwerd, and is registered on Australia's National Heritage List for its Aboriginal cultural heritage. The craggy granite and sandstone mountains rise out of the flat Wimmera plains affording outstanding views of central Victoria, and the spectacular rocky ridges are home to some 900 different species of native trees, shrubs and wildflowers.  We stay three nights in the bustling town of Halls Gap, in the heart of the National Park, followed by three nights in Mount Sturgeon Homestead in Dunkeld at the southern tip of the mountains.  Our final evening is at the renowned Royal Mail Restaurant in Dunkeld, which not only has one of Australia's finest working kitchen gardens but also an award-winning wine cellar.
As we are a small company and lead our tours personally, it is not possible to offer all itineraries every year.  If you are interested in this region our South West Coast and Grampians tour has scheduled departures.  Hiking the Victorian Alps is also a Level 5 hike which might be of interest.
Cost: $3495 per person based on two sharing
Single Supplement: $300
What's included?
•    Two professional guides to look after your every need and bring the area to life
•    Six nights' accommodation, 3 nights each in Halls Gap and Dunkeld
•    Five fully-guided hikes
•    Fabulous dinners every evening with excellent local and award-winning wines
•    Final evening in one of Victoria's best restaurants: The Royal Mail in Dunkeld
•    Exceptional picnic lunches and snacks en route
•    Wine tastings
•    Support vehicle
•    Free transfers to and from Ballarat
•    Comprehensive pre-trip information
Your Health and Safety
See our new protocols to ensure the safety and wellbeing of both our guests and HH staff.
Tour Highlights
Magnificent views from the Grampians Peaks across Victoria
Discover one of Australia's best long-distance hiking trails
Fabulous food and wine, with final dinner the celebrated Royal Mail at Dunkeld
Walking/Terrain
There are 5 days of walking on this tour:
Shortest day: 3.5km
Longest day: 20km
The entire Grampians Peaks Trail is due to open by the end of 2021. We hike through rugged terrain with significant ascents/descents (up to 800m). The trails are generally well-graded and there is some boulder-hopping. The Grampians are a craggy and rocky mountain range and sturdy boots with good ankle support are recommended.  Walking poles are an advantage, especially for the descents. There are two days with no van access at lunch.  On day 5 you will need to carry your lunch - a delicious selection of nutritious treats, which will be prepared for you in a lunchbox. In order to maximize your enjoyment of the holiday we recommend you exercise regularly prior to the trip in order to build up your fitness level. 
 


Accommodation
In Halls Gap: Pinnacles Lodge - a relaxing retreat set in 4 acres of native gardens
In Dunkeld: Mount Sturgeon Homestead - a fabulously-restored colonial house on the Royal Mail estate. Some rooms have ensuites and others have private bathrooms. There are two bedrooms which share a bathroom and we also use nearby bluestone cottages if required.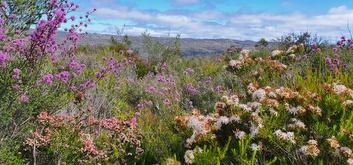 Learn more about our Victorian hikes